Upakut wears a lotus leaf atop his head and was born from a mermaid swallowing the Buddha's sperm. We visit his temple in Chiang Mai — and potentially save it from destruction.
When I first read of Upakut's bizarre origins, I was instantly drawn to him. So perhaps that's why fate presented his temple as the first one we stumbled upon on our trip to Chiang Mai, Thailand.
Wally and I walked across the Ping River via the Nawarat Bridge on Tha Phae Road, one stretch of the main thoroughfare that bisects Chiang Mai and leads to the East Gate of the Old City. A large attention-grabbing digital billboard stands on the east corner, and it's a challenge to cross the busy street — it's worth going a bit out of your way to use a crosswalk.
Tha Phae Road is lined with handicraft boutiques, antique shops, banks, restaurants and hotels. Not far from this intersection, we encountered our first temple, Wat Upakut. The temple was built in 1300 and predates the former ancient capital.
Phra Upakut is an important figure in Burma, Northern Thailand and Laos. He is a benevolent deity who protects against all evils and physical harm and is an auspicious attractor of wealth.
There are many different stories regarding his origin. According to Sanskrit legend, he was the son of a perfumer and one of the early adherents of the Buddha. Before the Buddha entered nirvana, he asked Pra Upakut to remain alive until becoming Maitreya, the second coming of the Buddha.
Thai Buddhists believe that Upakut is still alive to this day, residing in the middle of the Great Ocean, with a lotus leaf on his head. On the ninth full moon of the year, he roams the streets of Chiang Mai as a monk seeking alms. The first devotee to make an offering will be blessed with good fortune.
Under the Sea — and also on Fire
The most colorful story, and my personal favorite, claims that Upakut was the son of Buddha and his mother was a mermaid. He is also known as Bua Khem, whose name means "Needle-Sharp Lotus," referring to the stem that appears like a point atop the floppy lotus leaf upon his head. According to this version, he was conceived when a mermaid ate some of the Buddha's semen that came off while he washed his robes in a river.
In the wat complex, we meandered to the whitewashed chedi located adjacent to the monks' living quarters. An offering of a pig's head and feet sat alongside a black plastic laundry basket with cling-wrapped fruit. Wally was mesmerized by the strange setup, as was I — until I focused and realized that a votive candle had caught the basket on fire and the plastic was half-melted.
"I don't think that's supposed to be burning," I said, and Wally came out of his daze and yelled,"I'm going to see if I can find a monk to put it out!" and dashed off.
After trying to pantomime flames and a melting basket (the monks looked at him like he was crazy), eventually one followed Wally over to the chedi. Not long after, they had found a hose and put out the fire.
Here are some pictures of Wat Upakut, the temple dedicated to him: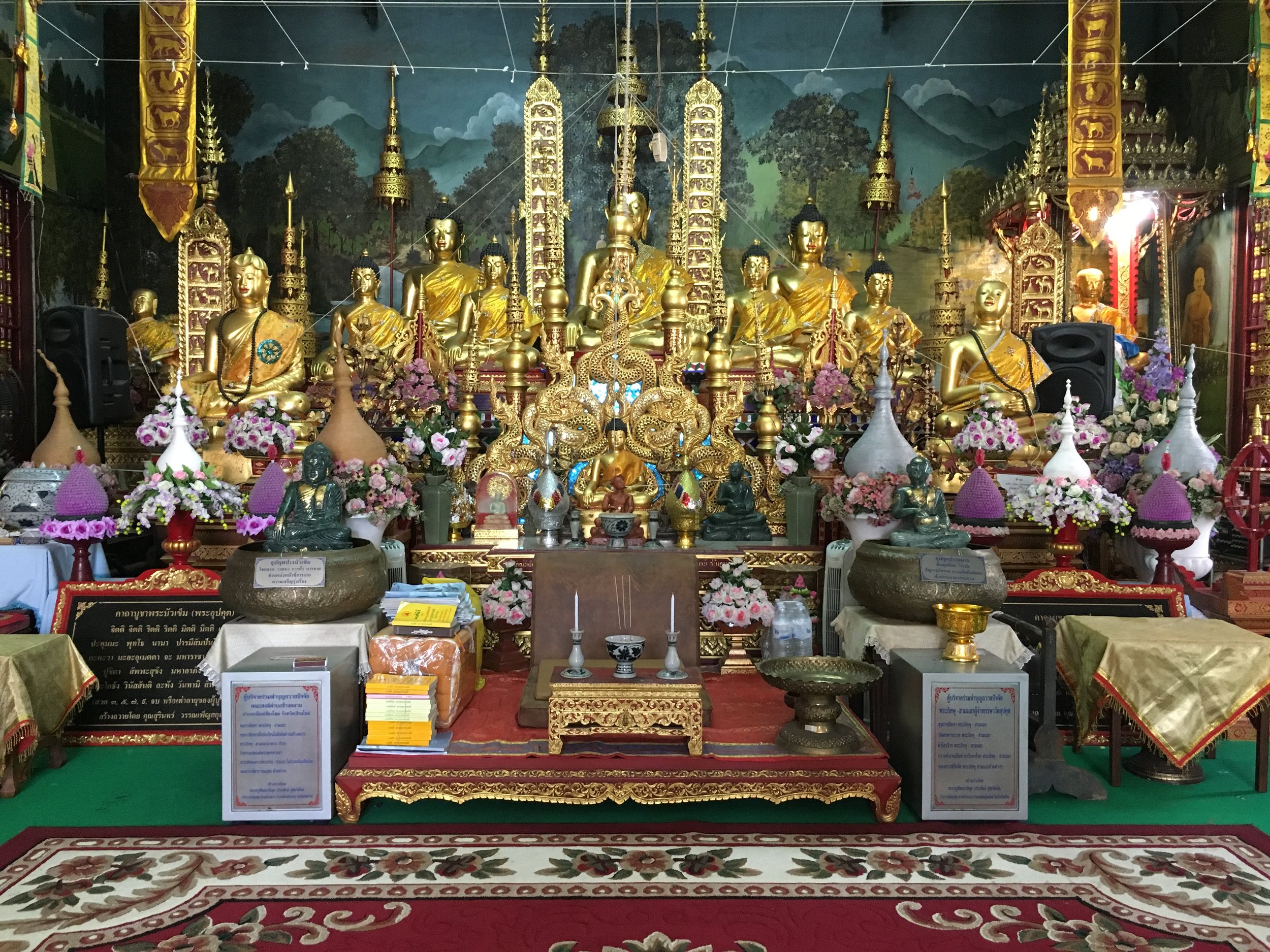 My Patron Saint
I purchased a statuette of Upakut, which a monk carefully wrapped and packaged for us. He excitedly told us of the upcoming Phi Ta Khon, the Festival of Ghosts, where an invocation of Upakut takes place at the temple in the wee hours of the morning. Both our eyes lit up as we asked the monk to tell us when this was happening. He seemed bewildered by our question, smiled and placed the small box with Upakut into my hands. We later learned that the festival does not take place until the end of June.
I quickly adopted Upakut as my patron saint, pointing out his likeness at the different temples in Chiang Mai. There's something comforting in the cross-legged figure with an upturned head, eating from his alms bowl with a serene smile on his face.
Wally couldn't seem to remember his name and jokingly referred to him as Ipecac, a syrup used to make a child vomit after swallowing poison. Whenever he did so, I tried my best not to smile. –Duke
Wat Upakut
164-166 Tha Phae Rd.
Tambon Chang Moi
Amphoe Mueang Chiang Mai, Thailand