At Wat Sang Kaew in Chiang Rai, you'll feel like Alice in Wonderland. Add this to a day trip that includes the White Temple, Blue Temple and Black Museum.
Our driver, Tommy, knew us so well. After a colorful succession of touring through the White Temple, the Blue Temple and the Black House Museum, we had some extra time on our day trip to Chiang Rai, and he suggested we make one more stop: Wat Sang Kaew.
The name translates to Glass Light, Tommy told us — though a local tour company insists it means "A lotus that has sprouted and emerged from the water and emits light like a sparkling gem with brilliant light." That's a lot to pack into a couple of words.
It should actually be called Wonderland, cuz we felt like Alice tumbling down the proverbial rabbit hole, encountering unexpected marvel after marvel the farther in we explored.
This wat, or temple, complex is about 30 miles south of Chiang Rai city — and we both think it should be included on any itinerary to this neck of the mountains. It's a relatively new complex; construction began in 2010, and parts of it were still being built when we visited in the spring of 2017.
The entire complex is bat shit crazy, giving you existential sensory overload — but in the best way possible. Your first clue are the giant statues that line the parking lot, including Upakut, the son of Buddha and a mermaid, and one of Pra Maha Kajjana, who according to legend was a handsome monk who transformed himself to a homely, obese man so that others would stop focusing on his physical appearance.
As you walk up the stairs, you'll pass through a super-sized white and gold arch, or, as we liked to imagine it, the metaphorical lookingglass.
Deep red and gold buildings stand amongst a who's who of deities whose hands are clasped in the wai, a gesture demonstrating respect and reverence.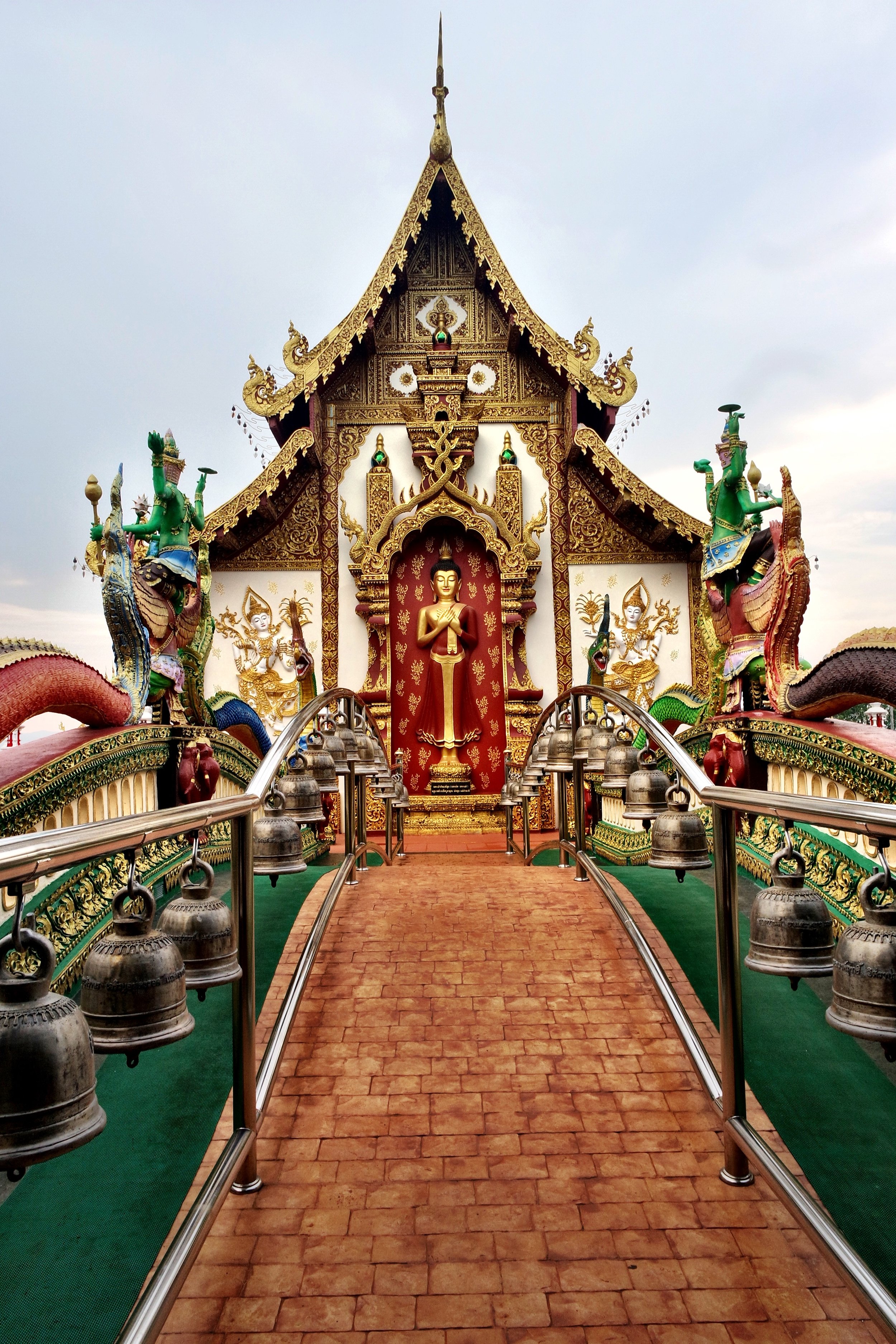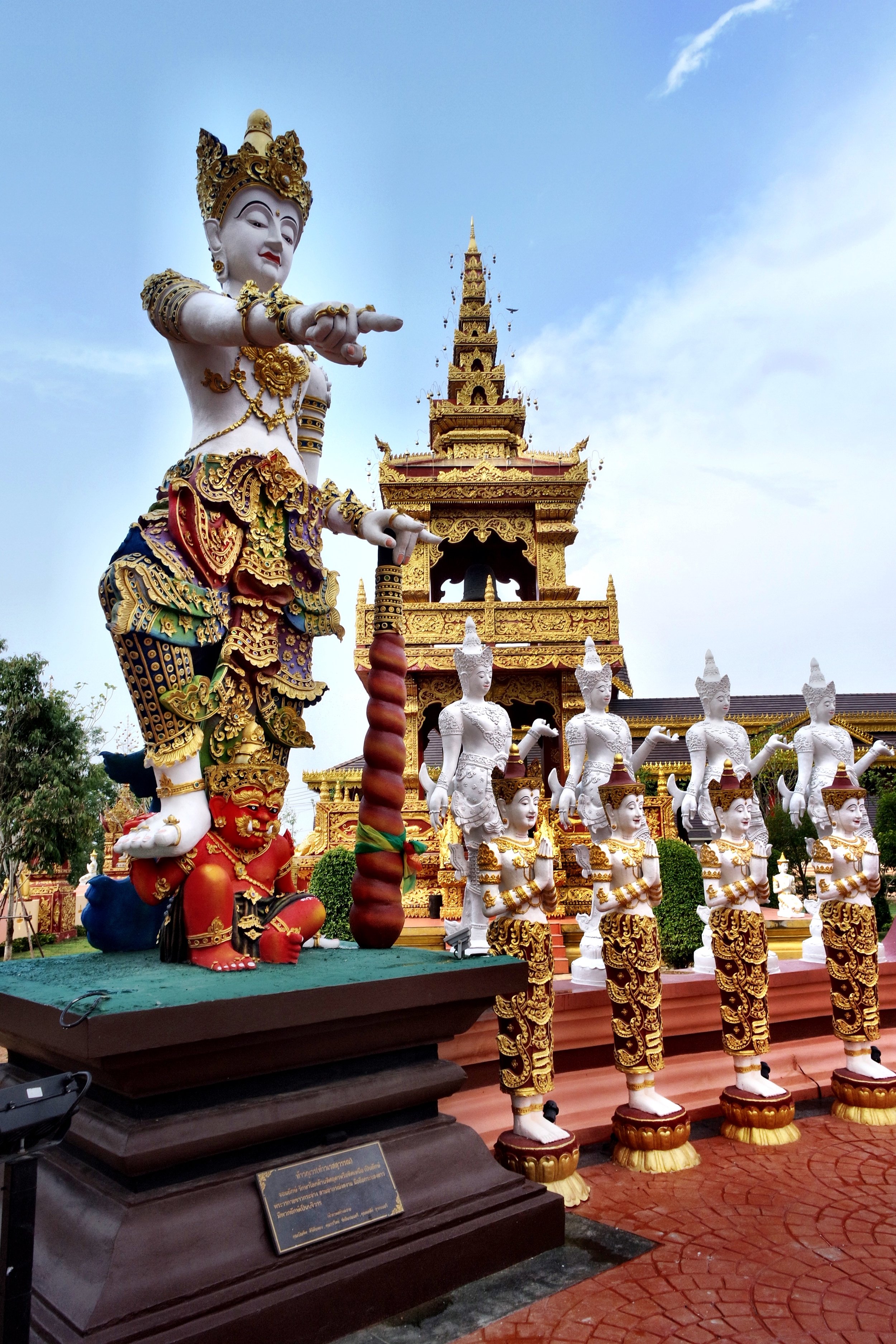 We loved the temple's appropriation of contemporary culture, including two asuras, or demons, bearing a litter holding a large bronze bell with shackles around their feet. One is sporting a pair of Converse high-top sneakers, the other a pair of flip flops with a smartphone tucked into the back of his sarong. The dais they stand upon is surrounded by 20 brass bells. The aesthetics of the temple have been shaped by its primary benefactor, Kruba Ariyachat, who Tommy told us is only in his 30s.
We figured this would be all there is to see. But really we had just begun our adventure in Wonderland.
We continued upward, beyond the front complex, surprised that there was more — and it's bonkers. An open-air sala pavilion contains an assortment of shrines, Buddhas of various sizes and a creature known as See Hoo Ha Dtaa, who consumes red hot coals and defecates gold. (He'd make a great pet!)
We passed giant deities and mythical creatures from Buddhist and Hindu traditions.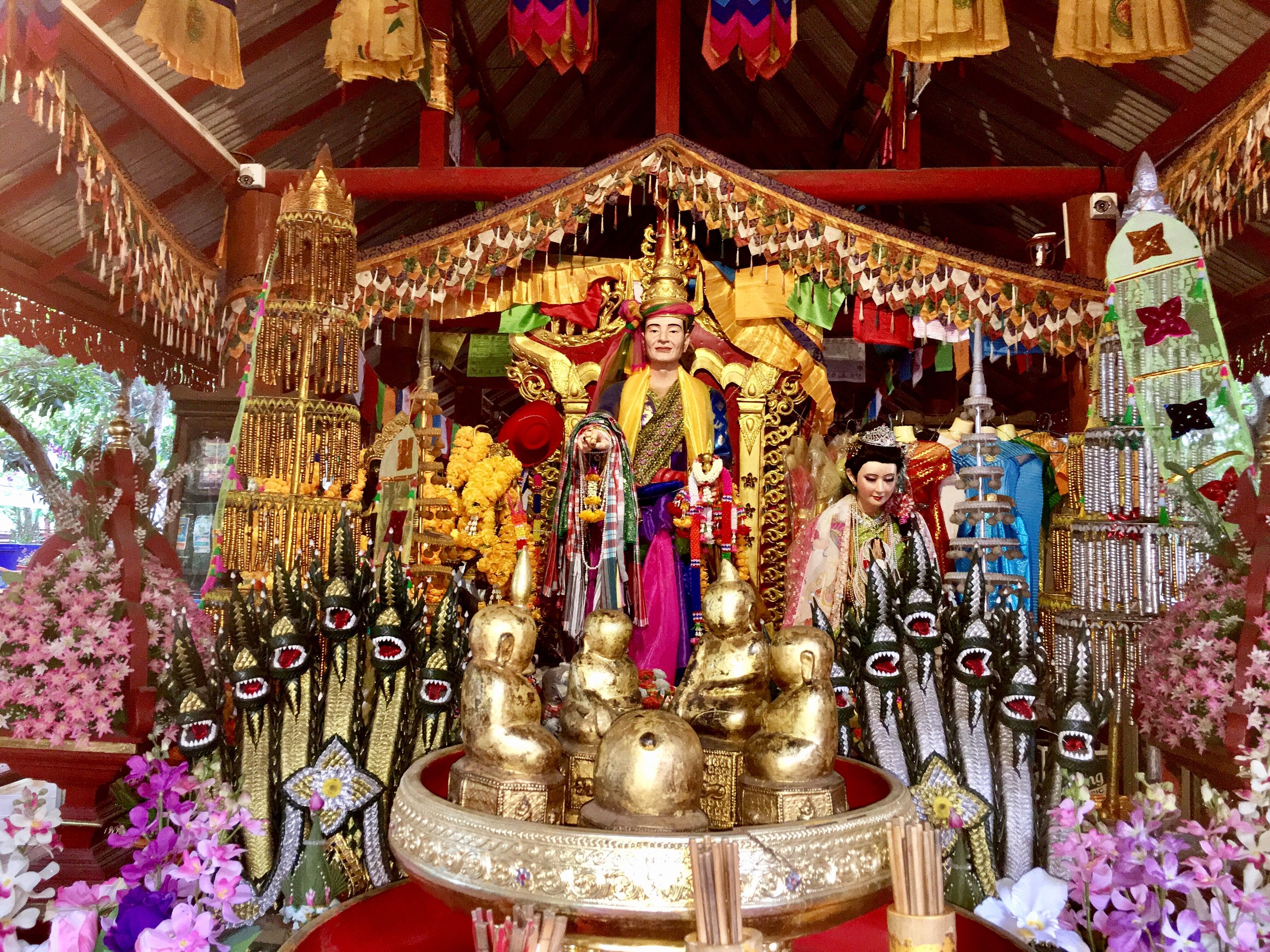 And then! Just when we thought things couldn't get any more bizarre, we emerged onto a turquoise blue piazza and entered what Duke and I referred to as the Hindu theme park. Towering brightly colored statues of our favorite gods loomed over us. There's Duke's guy, good old Ganesh, with his elephant head and fan base of rats. On the other side is my dude, four-faced Brahma, astride a green goose. In the center, a fountain is ringed by animal-headed men representing the signs of the Chinese-influenced zodiac. Piped-in music further adds to the surreal ambiance.
We wandered around barefoot, and as it had recently rained, I only slipped and almost cracked my head open once.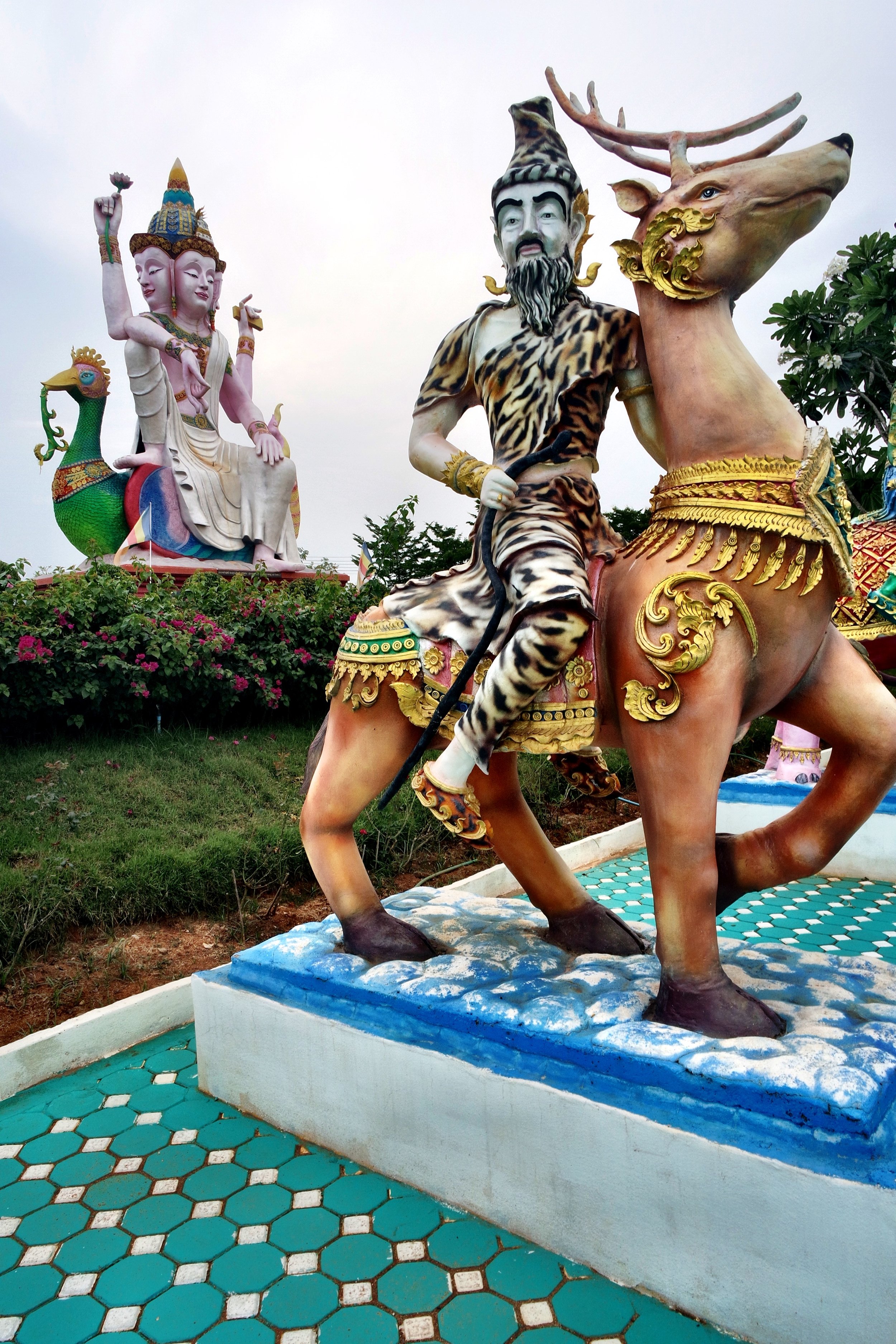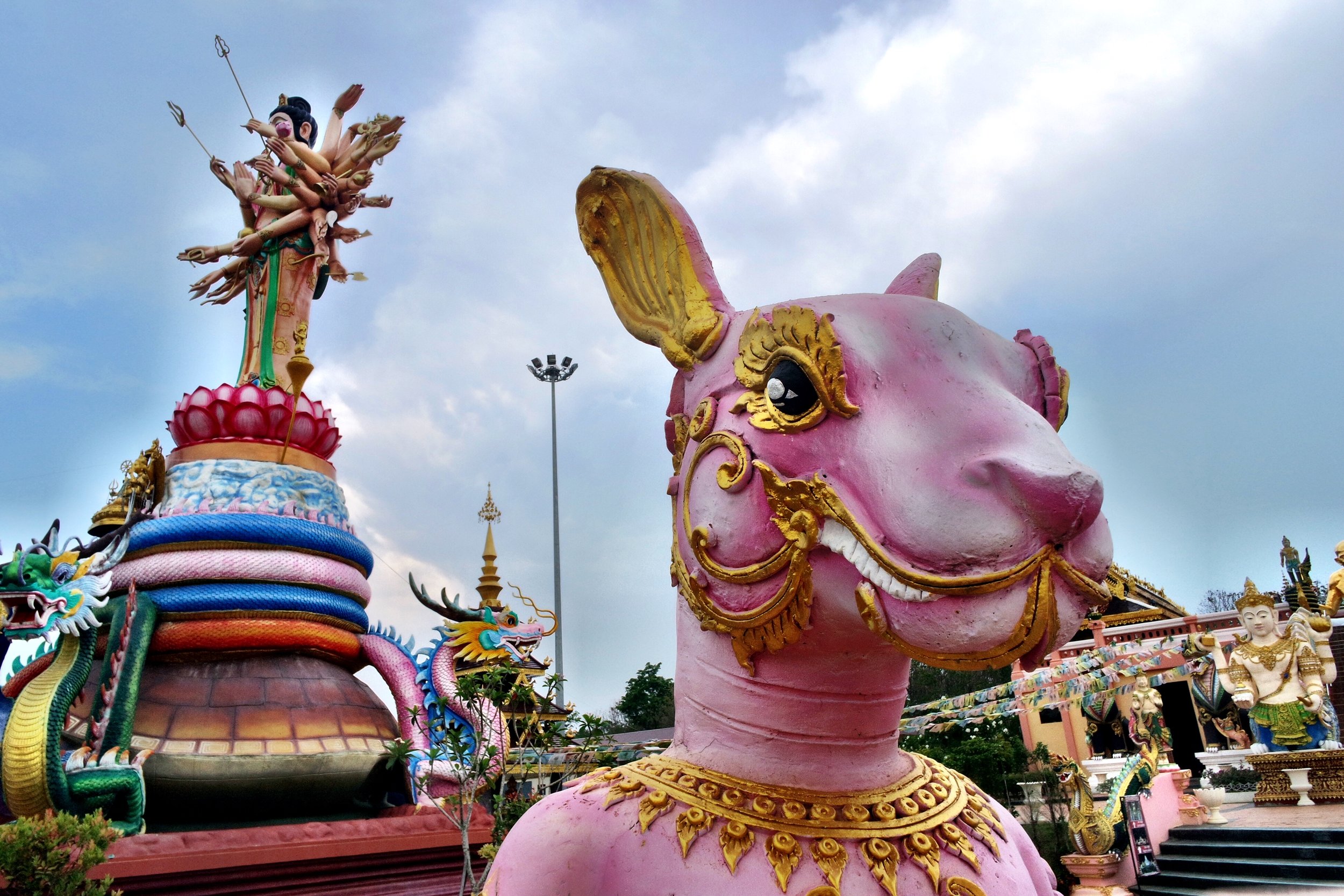 At the very tippy top, there's a pot of gold, so to speak, at the end of the rainbow. You'll find three gold statues of famous monks. The ginormous one in the center is the popular Engineer Monk, Kruba Srivichai, who lived from 1878 to 1938. He's responsible for many local construction projects, perhaps most notably the road that leads from Chiang Mai up to Wat Doi Suthep.
At the base of the golden monks, you can survey the entirety of the wat grounds — but most striking is the skyline. Bright green vegetation gives way to mountains that are an ombré of blues. It's breathtaking.
The more I think about it, and the more I look at the gorgeous (and goofy) photos, the more I realize that this was probably my favorite wat of the entire trip.
To book Tommy as a driver (which we highly recommend), email him at t.tommy2556@gmail.com. –Wally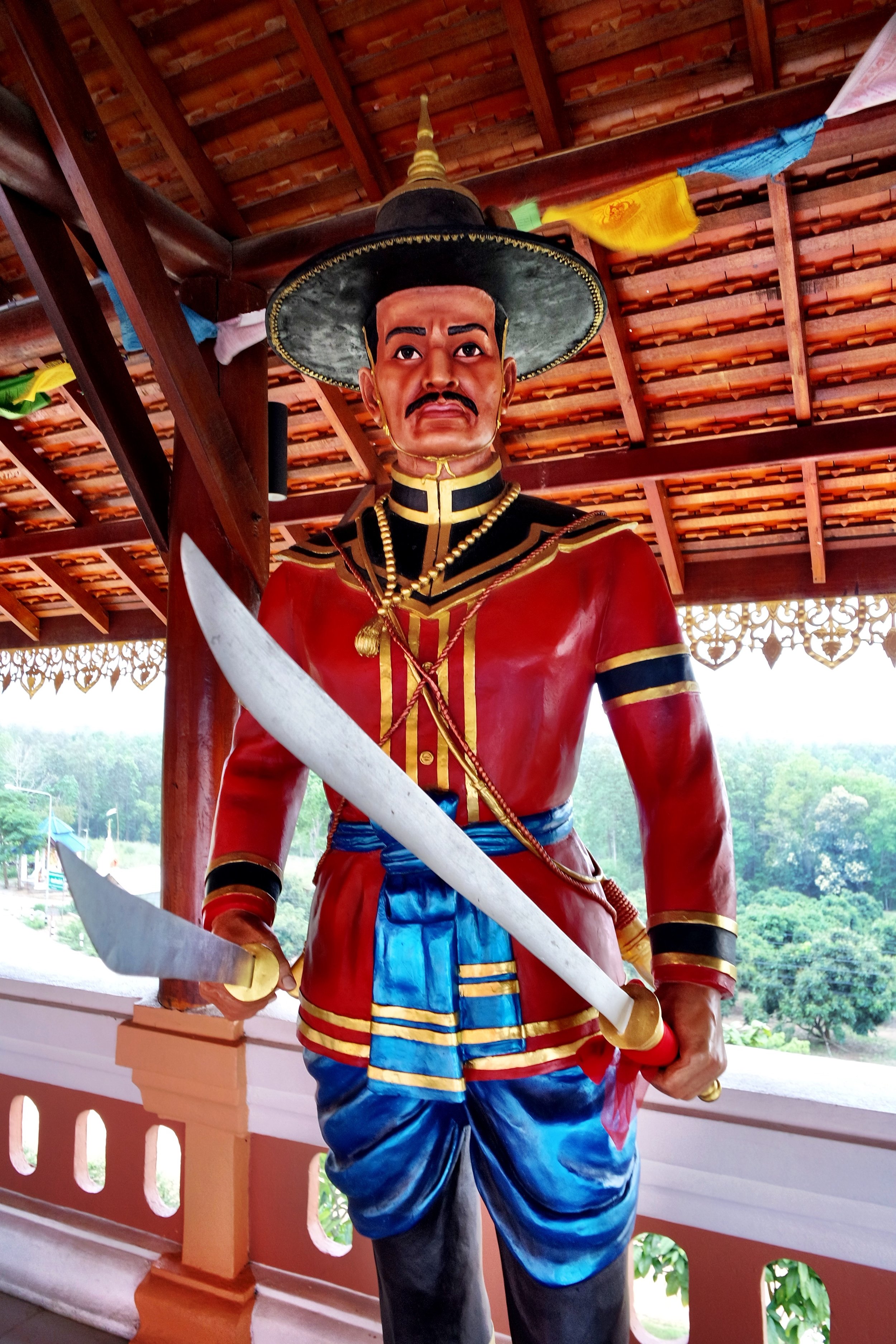 Wat Sang Kaew Bodhiyan Chiangrai
Mae Suai
Chiang Rai, Thailand