Looking for a Borobudur hotel on Java? Pamper yourself at a private villa with your own pool in the hills above the scenic Buddhist temple.
The Plataran Borobudur Resort & Spa ticked all the right boxes for Wally and me. From its proximity to the iconic 9th century Buddhist monument Borobudur, which could be seen in the distance from our private villa's very own infinity pool, the decision was easy.
Owned and developed by Indonesian entrepreneur Yozua Makes, the secluded Plataran Borobudur Resort, part of the Plataran hospitality group, is a one-of-a-kind luxury retreat nestled in the hills in Tanjungan Village in Central Java.
Even though it was late at night when Wally and I arrived, weary from our delayed flight, after a 90-minute drive from the Yogyakarta International Airport, we were greeted with a smile and offered cool towels and welcome drinks at reception. While completing the check-in process, I heard a melodious chirping and asked if it was a nocturnal bird. I was informed that it wasn't birds at all — it was geckos!
The concierge assisted us with our luggage and escorted us to our Executive Pool Villa, which would be our oasis for the next few days.
Set back from the path leading to the villa were a pair of weathered wood doors, with stone steps beyond that led down to our private courtyard. The spacious, airy interior featured minimalist décor, a king-size bed and a bathroom with a dramatic tub and rain shower. The bottled water wrapped in natural cotton fabric sleeves atop the dual washbasins was a nice touch.
A pair of sliding wood shutter doors leading into the villa regulates the amount of sunlight when closed and allows daylight in when open while still maintaining privacy.
On our first day, we decided to keep our itinerary open and barely left our villa. When we awoke that morning, it was the view that struck us first. Mist hung heavy over the lush greenery surrounding our villa. The sun's rays bathed Borobudur temple in golden light, and one of the local volcanoes, Mount Merapi, made a brief appearance before coyly disappearing behind the clouds.
Birds splashed in the water at the edge of our private pool while butterflies fluttered by and dragonflies whizzed through the air. We didn't waste much time before changing into our swimsuits and jumping in.
The name Plataran means "God's favorite courtyard," and it's easy to see why. Hidden amongst the palms and towering teak trees, each of the 21 standalone villas blends in with the stunning local landscape, and are modeled after the traditional Javanese joglo house. Their steeply pitched pedestal clay tile rooftops are built to resemble stylized mountain peaks.
We opted to spend the afternoon exploring the grounds and stopped off at the reception lobby to confirm the details for our sunrise visit to Borobudur. A gamelan musician with a serene smile was playing a xylophone-like instrument.
Each location offers a variety of pre-arranged tours including a driver and guides. Wally and I threw in 60-minute spa treatments. If you're going to relax, you might as well to go all in, right?
While wandering the grounds, we stumbled upon a menagerie of animals at the foot of a hill, including a flock of adorable spotted deer, a bashful peacock, a strutting male turkey that Wally named the Colonel and more than a few wild grouse roaming freely.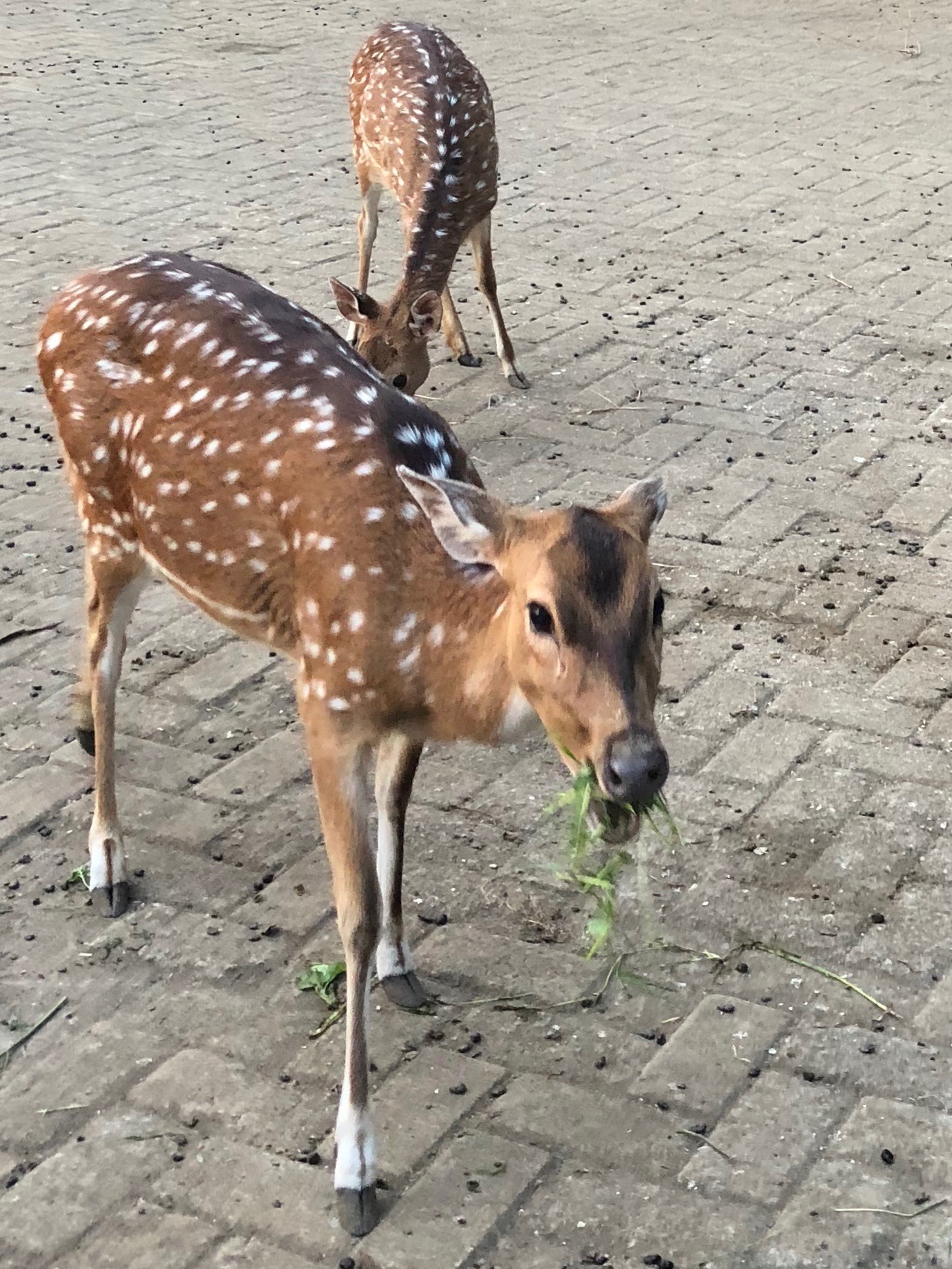 If you're interested in horseback riding, a stable and riding compound is available. It's visible from the reception area.
We did of course leave our room every morning for the impressive breakfast buffet served at the Patio Joglo, an open-air pavilion with a telescope smartly positioned for viewing Borobudur. This amazing spread included assorted pastries, fresh tropical fruit and juices. One of my faves was the jamu kunyit, a blend of galangal, tamarind and turmeric. A main course of traditional Indonesian or Western fare is included.
Breakfast was served with coffee, and Wally's request for an iced latte was happily accommodated. On our first morning, we met the lovely Ni Komang Darmiati, the resort manager, who goes by Mia. While deciding what to get, she suggested an off-the-menu item, the delicious nasi goreng magelangan, a local riff on the country's national dish. The aromatic meal included a mix of rice and glass noodles topped with a banana leaf hat. Small but potent green peppers were distributed into the dish and packed a pleasantly surprising amount of heat.
The resort's signature dining restaurant, Patio Colonial, overlooks the resort's pool and was constructed as a Dutch Colonial plantation house with a wraparound porch. Filled with historic memorabilia, it serves a tasty mix of Indonesian and international cuisine.
Complimentary afternoon tea is served with a variety of Indonesian snacks on the open-air rooftop deck atop the three-story reception building, offering compelling views of the Menorah Hills and Borobudur.
Wally and I were well taken care of by the friendly and courteous Haris, one of the servers we spoke with on more than one occasion during our stay. Like all the staff at the resort, he consistently and courteously replied, with an ever-present smile, "My pleasure" after every request.
Our four days at the Plataran Borobudur was the relaxing break that we both needed before heading back to reality. The wonderfully helpful Fuad and Merry made us feel as though we were guests at a friend's luxurious estate for the duration of our stay.
You could stay at the hotel adjacent to Borobudur, or you could pamper yourself at a first-class resort with your own private pool. Really, the choice couldn't be more simple. –Duke