What exactly is Majorelle Blue? What does Yves Saint Laurent have to do with the Majorelle Garden? And what's this about a new Musée Yves Saint Laurent?
Marrakech, Morocco is famous for many things: thick, fortified ramparts of beaten red clay, the towering minaret of the Koutoubia Mosque and the vast open square Djemaa el-Fna with its network of narrow, winding market-filled alleys known as souks. Oh, and "Berber whiskey": hot, sweet mint tea served in small glasses.
On our last full day in Marrakech, Wally, Vanessa and I walked from the medina to the Nouvelle Ville — French for New City. Our plan was to visit the Jardin Majorelle and to purchase a new memory card for our digital camera. We hoped to retrieve the images from our corrupted memory card, which had stopped working when we arrived in the Sahara, further proof that jinns exist.
We found a camera store, and Wally conversed with the shopkeeper in French, who took the card and inserted it into a reader. He looked up at us, shook his head and said, "C'est grillé."
"I think that means it's toast," Wally said, sadly.
We went on with our day, happy to at least have a new memory card to start taking more pictures. As the three of us made our way around the walled enclosure surrounding the Jardin Majorelle, we became a bit concerned it wouldn't be open. Our guide from our desert trek, Barack, had told us that the most important prayers of the week are those at noon on Friday, and because of this, Muslim cities essentially close from 11 a.m. to 3 p.m. We were in luck, though — the garden was open.

We entered the garden through a weathered wooden door, and although there were many people visiting that morning, I was struck by its serenity. The pebbled garden path led through a dense cluster of bamboo. Sadly, countless visitors have left their mark by carving their initials into the shafts of bamboo.
True Blue: The History of the Majorelle Garden
The garden's creator was Jacques Majorelle, a French Orientalist painter, the son of furniture designer and manufacturer Louis Majorelle. On the advice of his physician, Majorelle the junior travelled to Morocco for the sake of his health, and was immediately captivated by the vibrant colors and quality of light.
He settled in Marrakech in 1917, and in 1923 purchased four acres of land bordering a palm grove outside the city's ancient walled medina. Eventually, Majorelle purchased an adjacent plot, expanding the property to 10 acres.
In 1931, he commissioned architect Paul Sinoir to design a Cubist villa to serve as his studio. Majorelle painted the fountains, planters and atelier a specific shade of cobalt blue, now appropriately named bleu Majorelle.
Around his new dwelling, Majorelle, a passionate amateur botanist, cultivated the gardens, which he opened to the public in 1947 to help offset their costly maintenance. After Majorelle's death in 1962, the gardens remained open but gradually fell into a state of disrepair, lacking the care necessary to maintain them.
Yves Saint Laurent to the Rescue
Couturier Yves Saint Laurent acquired a second guesthouse, Dar Es Saada, in Marrakech in 1973 with his then-boyfriend Pierre Bergé. Arabic for the House of Happiness in Serenity, it was located near one of their favorite places, the Jardin Majorelle. When they learned seven years later that the gardens were slated for demolition to make way for a pool and bungalows. Saint Laurent and Bergé decided to purchase the 12-acre garden and villa. The couple enlisted American landscape architect Madison Cox to meticulously restore the gardens. According to Cox, Saint Laurent had the vision to have the flowerpots scattered throughout the garden painted in lemon yellow, sky blue and the famous bleu Majorelle. Saint Laurent and Bergé kept the garden open for visitors to enjoy, just as Majorelle did.
(Bergé and Cox married in a private civil ceremony shortly before Bergé's death in 2017. Cox is also the director of the Fondation Jardin Majorelle, an organization that operates under the Fondation Pierre Bergé-Yves Saint Laurent.)
Musée Yves Saint Laurent
Saint Laurent often designed his collections while in Marrakech, inspired by the city's colors and shapes. So it's fitting, pun intended, that a museum dedicated to the influential designer's life and legacy was built next to the Jardin Majorelle.
Although it wasn't open when we visited, the Musée Yves Saint Laurent, abbreviated as mYSLm, was spearheaded by Bergé and conceived by Studio KO architects Karl Fournier and Olivier Marty. The museum contains an extensive collection of couture garments, sketches, fashion photos and assorted objects showcasing YSL's signature genderbending style from 1962 until his retirement in 2002.
Secret Garden
We passed through a pergola covered with bougainvillea and paused to look into a reflecting pool containing water lilies and a pair of turtles resting at its edge.
Following the garden path, we came upon a modest memorial dedicated to Saint Laurent. When he passed away in 2008, his ashes were scattered amongst the garden he and Bergé so lovingly restored.
The magnificence of this garden reminded me of the exotic Generalife gardens located beside the Alhambra in Granada, Spain. The arid landscape, originally almost devoid of vegetation, like the gardens of the Alhambra, were utterly transformed by Majorelle over a span of 40 years. From what I could identify, the garden includes agave, bamboo, cacti, cypress, datura, succulents and bougainvillea.
In the Cubist villa, there's a gift shop and a museum dedicated to artifacts from the pre-Arab inhabitants of North Africa, the Berbers. Just don't try to sneak in, or you might get kicked out, like Wally did.

Birds chirping, bamboo rustling in the breeze, and the sound of trickling fountains truly turn the garden into a welcome oasis from the hustle and bustle of the medina. –Duke
Jardin Majorelle
Rue Yves Saint Laurent
Admission: 30 dirham, or around $3.25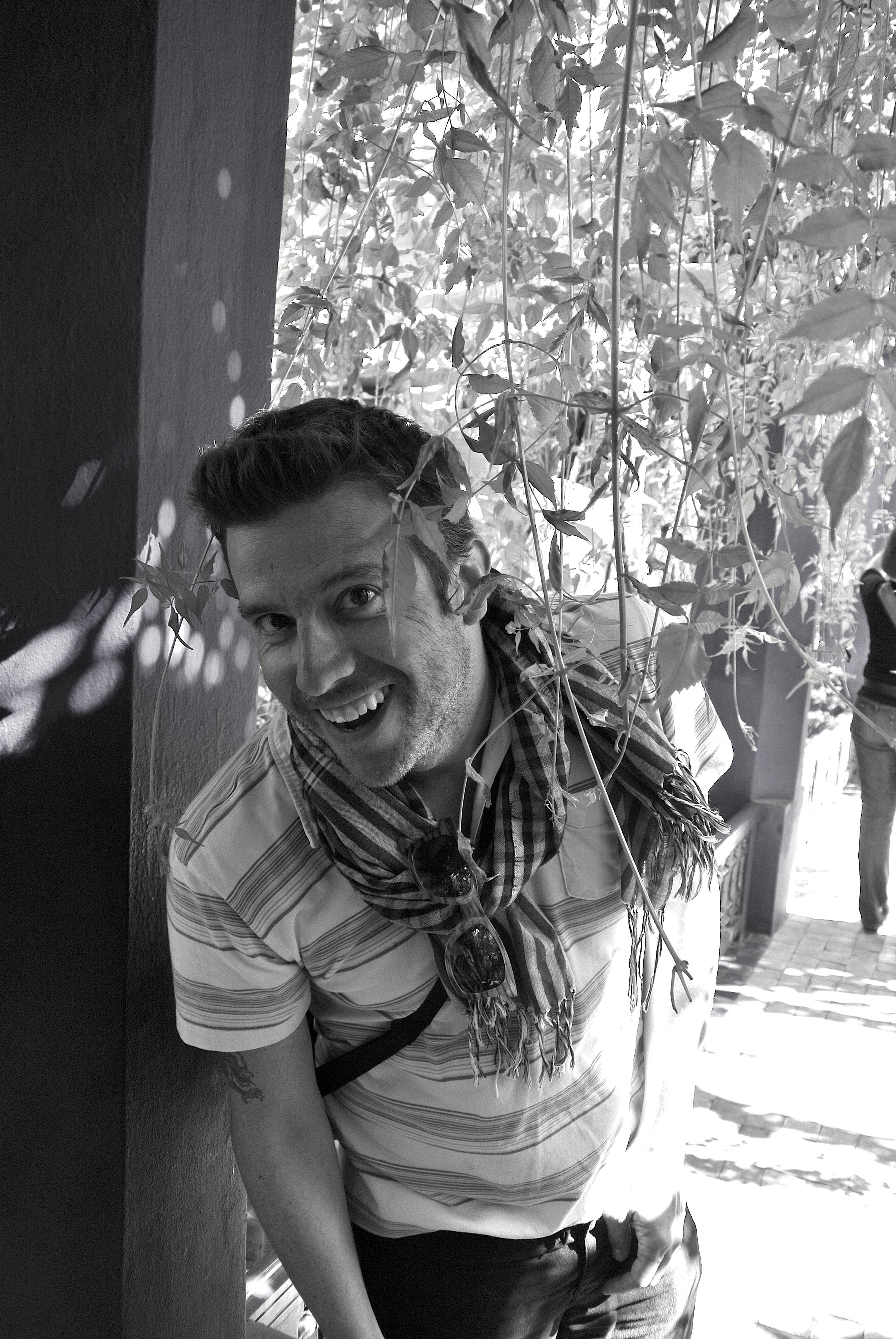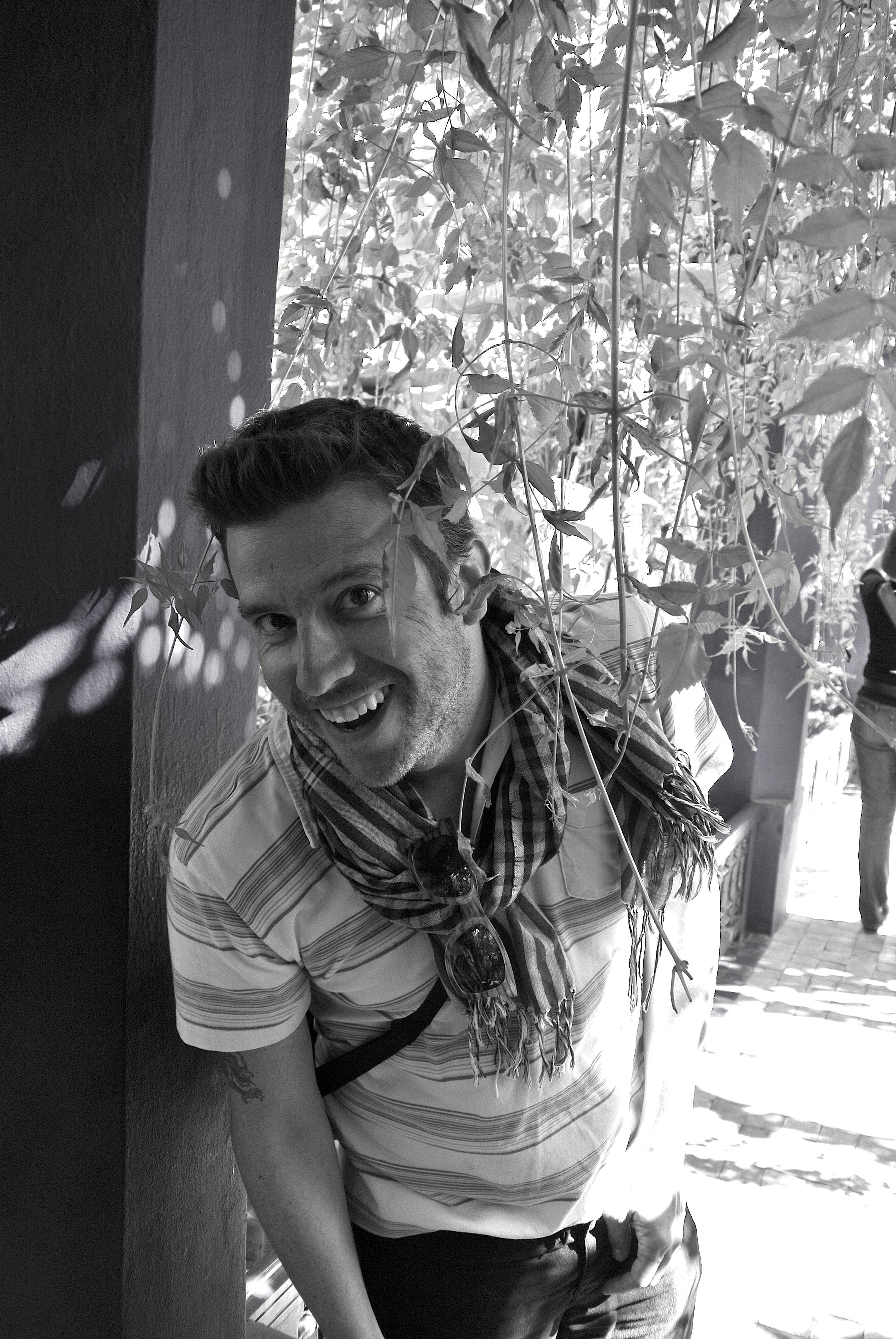 Nearby
Thirsty and hungry after visiting the gardens, we dined on the terrace of Kaowa Café, a snack and juice bar situated across the way. We ate delicious puffs filled with cheese and tried some of their signature juices.