13 of the strangest vintage Christmas cards that don't quite bring good tidings to you and your kin.
I started out thinking I'd collect a bunch of charming vintage Christmas cards for this post. And while I found some cute images of eager children, kind Santas and snow-covered winter wonderlands, they just weren't doing it for me. They didn't begin to compare to the creepy excellence of vintage Halloween cards or the Yuletide greetings from that devilish Krampus.
And then I came across an old Christmas card that depicted the cheerful sentiment of a man getting mauled to death by a polar bear.
Given that I'm more likely to be on Santa's naughty than nice list, I knew I had found my theme: Christmas cards that have a bizarre bent. As I searched around online, I grew more and more confounded. What the heck does a dead robin have to do with a merry Christmas? What's up with that frog who stabbed and robbed his compatriot? What is that thing in the pot — and why does the cook have a bird's head? Why are those oysters so sad? And who gave that little doggie a rifle?!
Here are the 14 weirdest vintage Christmas cards I could find.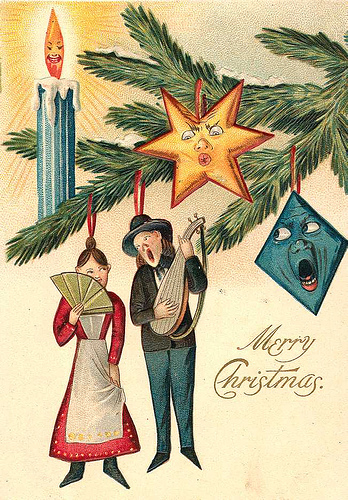 Wishing you a weird and wonderful Christmas! –Wally